kenyvr asked: I have a friend totally in to the foodie scene, I would love to buy her and her spouse a place at NFA, is this possible?
4 tags
10 tags
5 tags
3 tags
Write up on Gourmeted.com: "Underground Dining at... →
A very big thank you to Gourmeted.com for their recent write up!
6 tags
A Secret Supper by Juanita Ng/Vancouver Sun →
Huge thank you to Vancouver Sun's Features Editor, Juanita Ng.  Follow Juanita Ng on twitter. 
markbusse asked: Have you ever done a traditional South African-themed "rainbow cuisine" meal?
5 tags
Dinner on the Downlow (Review) →
Thank you's to www.pinq.ca for the review and visit to NFA! 
7 tags
4 tags
4 tags
"When I attended the recent NFA dinner, funny enough, it was to the year that I..."
– Teresa of Senses Inspired
5 tags
"Sick of wine markups killing your dining experience? Try NFA Vancouver for the..."
– Winecouver.ca
A Trio of Squid
The amazing thing about ingredients is the fact that you can prepare them in different ways and they all taste immaculately different.  Take the squid for example.  You can fry it, grill it, boil it or even eat it raw.  What ever tickles your fancy.  We present to you, the Trio of Squid - Taste of Spain.  We know you'll love it.  
3 tags
4 tags
"Thoughtfully designed, skillfully prepared, and artfully presented - presented..."
– N.A. - Feb 19/2011
3 tags
"Steve - You are absolutely a Maestro of Gastronomy - Thank you."
– S.O - Feb 19/2011
4 tags
"Great dinner! I loved the variety in flavours and textures. Thanks for the fun..."
– C.F. - Feb 9, 2011
4 tags
"Thanks Steve for a fabulous night. The textures & creativity were amazing ..."
– S.C. - Feb 9, 2011
4 tags
"Super Duper Awesome Dinner. Thanks so much for the treat of eating food so..."
– K.J. - Feb 9, 2011
3 tags
2 tags
8 tags
Recipe: Duck Breast with a Honey Fenugreek Seed...
We thought we would share one of our recipes with you this month!  Let us know how it goes and be sure to post some photos on our Facebook Pages! Ingredients  1 duck breast 1 heads bok choi, chopped in half 3/4 tsp fenugreek seeds 1 small dried chilli 4 tbsp honey 3 tbsp tsp soy sauce Method 1. Trim the duck breast and score the skin. Season with salt and put it skin side down in a cold...
jensmh asked: Do you ever put on dinners for non meat-eaters, either pescetarians or vegetarians?
9 tags
No Fixed Address Shines in the Underground... →
A huge thank you to Melody Fury of Gourmet Fury and Vancouver Food Tours!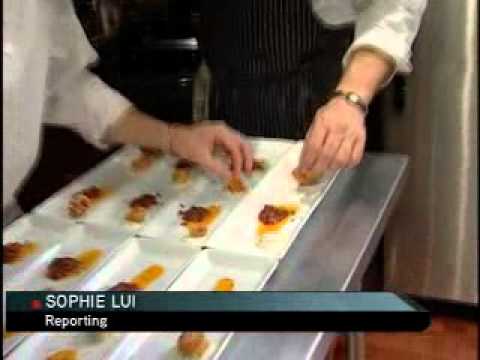 7 tags
7 tags